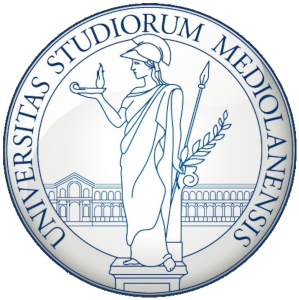 The mission of the University of Milan (UniMI), established in 1924, is to contribute to society through the pursuit of teaching/education and research at the highest international levels of excellence. With a teaching staff of about 2.200 tenured professors and with almost 60,000 students, UniMI is the largest university in Lombardy, one of the most dynamic and internationally-oriented EU regions. UniMI offers a wide range of study programs covering Humanities, Social Sciences and Law, Medicine and Healthcare, and Natural Sciences.
UniMI has an established reputation as one of the institutions most strongly committed to basic and applied research in Europe. EU programs represent a major source of funding for the University of Milan, which has signed 147 grants under the 7th Framework Programme (2007-2013), for a total value of € 50,344,153, and 52 grants up to May 2016 under the Horizon 2020 Programme (including 9 JPI), for a total value of more than € 14,000,000. UniMI has also built relationships with different third parties such as industries, non-profit organizations, institutional entities, SMEs.
The University of Milan is constantly developing projects in cooperation with some of the most relevant international research groups, often acting as activities coordinator. The University supports researchers in accessing EU funds, in the achievement and exploitation of innovative results in different ways, including: Monitoring official EU programs websites on a daily basis; Providing information on funding opportunities through newsletters, web pages, ad hoc events, helpdesk; Supporting proposal drafting; Facilitating the grant application process; Negotiating research-related contracts and agreements; Advising on Intellectual Propriety Rights issues; Supporting University and Divisional research-related planning; Promoting the responsible conduct of research activities and compliance with regulatory requirements; Supporting Intellectual property protection of innovative results; Promoting exploitation of research results; Supporting negotiation with third parties aimed to licensing of IPR; Assisting and supporting establishment of new innovative enterprise (i.e. spin-off).
The Department of Physics at University of Milano hosts research activities in most of the forefront fields in fundamental and applied Physics, including a strong and lasting activity in Astrophysics and Cosmology. The international excellence of the research performed in the Physics Department, is demonstrated by the award of substantial international grants. Our Cosmology group at Physics Department, University of Milano, has wide experience in Cosmic Microwave Background projects, covering instrumentation, observations and data analysis. For over two decades we have played a leading role in the design, development, testing, operation and data analysis of the Low Frequency Instrument (LFI), one of the two instruments on board the ESA Planck mission. We have also high scientific responsibility in LSPE and QUBIC, two ground-based CMB experiments currently under development. Our laboratory integrates various capabilities and skills, from design and manufacturing of hardware components, to simulations, to data analysis and scientific computing. While our core business remains astrophysics and cosmology, we are keen to identify synergies and collaborations with SME and other external partners for mutual interest and benefit.